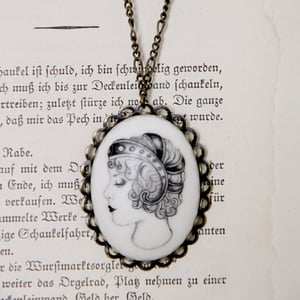 £

35.00
An ill-fortuned and long-forgotten duchess, Angelica defied her royal superiors and spent her spare-time in a spangled costume, standing barefoot and doing handstands on the backs of the palace horses while they cantered around the royal gardens. Her adventures came to an early end when her horse was spooked by a fox, and the royals swept her 'embarrassing history' under a lavish Persian carpet, not to be discovered for over a century.
She's pencil illustrated by me, applied to a hand-made porcelain dome, and protected with several coats of porcelain glaze. It's then set in an antique bronze double-lace filigree setting and hung on a gorgeous long antique bronze mother & son chain. Porcelain dome measures approximately 30mm across and 40mm high.
A cameo of her cousin, Cordelia, is also available.
It's possible that the item you will receive may not be the exact one photographed here, but will be as close to the shown piece as possible. Remember that everything is handmade :)