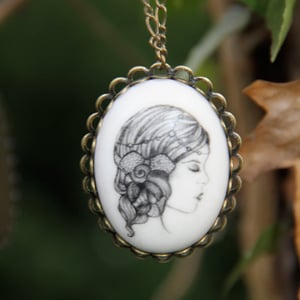 £

35.00
Oh, Miss Cordelia...... the super sugary sweet duchess in disguise. This little lady is infamous for her slick, quick moves with a fencing sword, and was most known for her back-flip-and-stab maneuver. However, she was also an exquisite éclair artiste and amazed the royals with her dainty decorations.

She's pencil illustrated by me, applied to a hand-made porcelain dome, and protected with several coats of strong porcelain glaze. He's then set in an antique bronze double-lace filigree setting and hung on a gorgeous long antique bronze mother & son chain. Porcelain dome measures approximately 30mm across and 40mm high.
A cameo of her cousin, Angelica, is also available.
It's possible that the item you will receive may not be the exact one photographed here, but will be as close to the shown piece as possible. Remember that everything is handmade :)